Yes! We repair and SELL
MK-DENT Germany dental handpieces.

We are a Master Dealer for MK-dent Germany, selling highspeed, low-speed, Electric, couplers & attachments.
Use the form below or call us at 1-800-874-1212 to speak with our staff regarding all of your handpiece inquires. We make handpiece repairs simple & easy from start to finish. 
ELECTRIC Motors & Attachments – Free Estimate

First Time Customer Specials
10% off 1 Repair
15% off 3 Repairs
20% off 5 Repairs
10% off Electric Repairs – Request our FREE Evaluation & Estimate 
Ask about our 6-Month Warranty!
* Prices subject to change without notice. All work has 6-month warranty except if it has been subjected to apparent misuse, abuse or accident. Japanese Turbines warranty for 3 months. 'Lube free' turbines warranty for 1 year. Product names and brands are registered trademarks of their respective owners.
Let Us Help You!
Family-owned and operated for over 45 years! Our experienced and knowledgeable staff will be happy to help you with any questions or concerns about our dental products and services.
For immediate assistance, call us at 1-718-236-4399
Monday – Saturday 8AM-7PM 
Free Pick Up and Delivery!
We are conveniently located in New York at: 1358 83rd Street, Brooklyn, NY 11228
2-Day Turn Around
when you call us now for your FREE FedEx pick-up on 2 or more repairs, pending parts in stock.
Free Mailing Label
Print out or free mailing label and affix it on the box with your handpiece. We'll pay the postage!
Repaired to OEM Specifications
All electrics, high speeds and low speeds sent to Arpino Dental are repaired to OEM specifications with quality OEM parts at a discounted price.
We stand behind our working offering extensive no-questions-asked warranties.
We offer nationwide repairs that includes FREE Fedex pickup and delivery on 2 or more repairs or a Free Postal Label.
Upon request, repair jobs can be completed in as little as 2 days.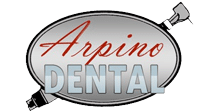 "Quality work and pricing. Great turn around times and backed by warranty. Always a pleasure, thank you!"
– Dharni Jasthi