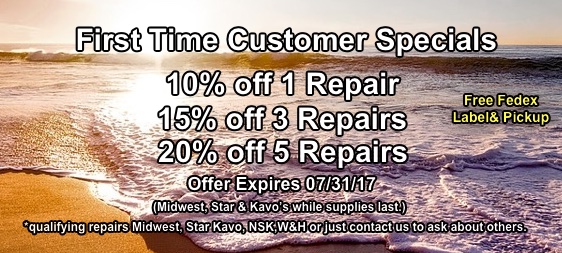 While you're busy taking care of your patients' teeth, Arpino Dental has your dental handpiece service needs covered. You're sure to have your dental handpiece back in perfect condition when it gets to your office following our repairs.
All over the world, dentists trust us with their handpiece repairs and dental equipment purchases. We even sell new dental handpieces when you're in need of one. Whether you have a high or a slow speed dental handpiece, our technicians will be able to repair it for you. We'll even repair your implant handpiece and related attachments. As your patients trust you with their dental care, you can trust Arpino Dental to Handle your equipment.
Arpino Dental has extensive experience repairing the following makes and models of dental handpieces: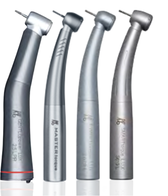 * Midwest
* Kavo
* NSK
* Star
Why You Should Choose Arpino Dental For Your Dental Handpieces and Repair:
*All electrics that are sent to us for repair will be repaired to OEM specifications with quality OEM parts at a discounted price.
*We offer nationwide repairs that include FREE FedEx pickup and delivery.
*We have over 40 years of experience working with the dental industry
*Upon request, repair jobs can be done in as little as 2 days time.
Call Arpino Dental today for a free estimate for the repair of your dental handpiece. We'll even tell you the estimated cost of replacement parts. We'll be happy to help! Arpino Dental has many solutions available to dentists including new and refurbished dental equipment in all of the brands that dentists trust most.