Dental Handpiece Repair Service
Family owned & operated for 42+ years!                                               Repairing all ELECTRICS, HIGH SPEEDS & LOW SPEEDS!
Need your handpieces back in a hurry, we offer 2-day turnaround on most handpieces upon request. 
Arpino Dental around the country is synonymous with Handpiece Repair. For 42 years we've repaired thousands of high speeds such as Midwest Quiet Airs, Traditions and other favorites like the Star 430 series and the ever famous Kavo line of drills. Of course, we repair all Slow speeds from all manufacturers as well. As technology progresses we stay ahead of the curve by specializing in all Electric repairs….yes, we can fix your Kavo, Star, W&H, NSK, Etc attachments and motors for nearly half the price of the factory with just a 2-day turnaround normally. Also, we repair all Endo & Implant drills as well as Surgical Drills such as Stryker and Hall.
Give us a try to see what separates us from the pack by calling or filling out the quote form opposite this page and we will be happy to offer you a FREE FedEx in office pickup on 2 or more repairs. Have only 1 repair no problem just fill out the Postage Free Label form on top of this page and attach to any box and it will get to our facility first class mail at no cost to you.
We stand behind our work offering extensive no questions asked warranties.
Our dental handpiece repair services include:
We have extensive experience repairing the following makes and models of dental handpieces: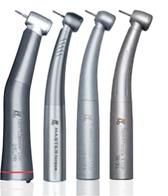 Why you should choose Arpino dental for your dental handpieces and repair:
All Electrics, High Speeds & Low Speeds that are sent to us for repair will be repaired to OEM specifications with quality OEM parts at a discounted price.
We offer nationwide repairs that include FREE FedEx pickup and delivery.
We have over 42 years of experience working with the dental industry
Upon request, repair jobs can be done in as little as 2 days time.
Nationwide repair that includes FREE FedEx pickup and delivery. Send your dental handpieces to our location in New York: 1358 83rd St. Brooklyn, NY 11228.
Arpino Dental is also a master deal for the MK Dent handpieces. Please contact us when you are the need for superior handpieces at affordable prices.
Request a quote or call us now!
Our knowledgeable staff will be happy to help you with any questions or concerns about our dental products and services. For immediate assistance, please dial toll free 1-800-874-1212, or local calls in New York state 718-236-4399. Our office is open 9am-6pm (Eastern Standard Time) Monday through Friday.
If you have less immediate inquiries not covered by our website, please use our convenient e-mail form below for a quick response. Simply fill out the form and press submit to send your message. Please allow 24 hours for a response.