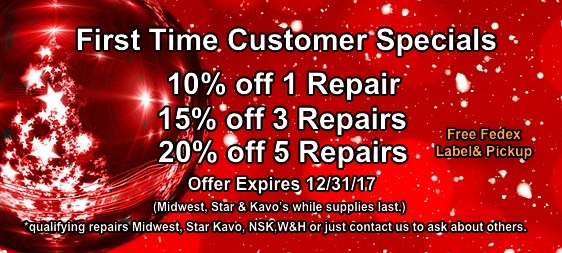 Dental Handpiece Repair Service and Sales
A dentist is only as good as his or her dental equipment. This is why Arpino Dental believes so strongly in supplying the medical community with top-quality handpieces. Often times, this involves selling a brand-new handpiece to a dental office. For these sales, we offer Star Dental, Midwest, Kavo, Micromite, and other manufacturers. We can help you search through our vast inventory and find the piece that is perfect for your needs, at a price your practice can afford. In other cases, a handpiece can be maintained and repaired and be in like-new condition in no time. Arpino Dental can also handle these transactions as well.
We offer two-day turn around time, because we know you can't go very long without equipment working the way the manufacturer intended. Don't take a risk with anyone else, call Arpino Dental! We even offer free pickup and delivery, just one of the ways we show you how customer-focused we are. Call (800)-874-1212 to get started and speak to one of our dental handpiece experts. Of course, we also offer online ordering when you know exactly what you want and need it to your office quickly. Whatever your dental handpiece needs are, Arpino Dental can do it for you.
Our dental handpiece repair services include:
We have extensive experience repairing the following makes and models of dental handpieces: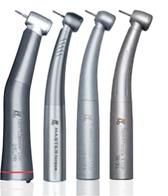 Why you should choose arpino dental for your dental handpieces and repair:
All electrics that are sent to us for repair will be repaired to OEM specifications with quality OEM parts at a discounted price.
We offer nationwide repairs that include FREE FedEx pickup and delivery.
We have over 40 years of experience working with the dental industry
Upon request, repair jobs can be done in as little as 2 days time.
Nationwide repair that include FREE FedEx pickup and delivery. Send your dental handpieces to our location in New York: 1358 83rd St. Brooklyn, NY 11228.
Request a quote or call us now!
Our knowledgeable staff will be happy to help you with any questions or concerns about our dental products and services. For immediate assistance, please dial toll free 1-800-874-1212, or local calls in New York state 718-236-4399. Our office is open 9am-6pm (Eastern Standard Time) Monday through Friday.
If you have less immediate inquiries not covered by our website, please use our convenient e-mail form below for a quick response. Simply fill out the form and press submit to send your message. Please allow 24 hours for a response.